Australia's largest bus body builder has leaped into 2023 announcing it will build more than 60 buses for long time partner ComfortDelGro Corporation Australia (CDC) with the majority of vehicles being delivered into the Hunter region, metropolitan Sydney and regional NSW.
The new builds range from Endura school buses, Audaces for school charter, metropolitan route buses and one-door Optimus' for rural and regional services. The announcement follows more than 30 buses Volgren delivered to CDC in 2022 including their first Optimus-bodied, Volvo BZL, currently operating in the Victorian Government's ZEB trial.
Volgren's Chief Executive Officer Thiago Deiro said the new orders reflect CDC's growing national footprint and a partnership which goes beyond your 'standard supplier-customer relationship'.
"CDC is one of Volgren's key partners in Australia. We work closely together to achieve the same goal, a reliable product and service to passengers across Australia."
"Relationships like this don't happen overnight, they are constructed over time with transparency and trust as its pillars; and this is why it works so well."
Thiago said the new orders underline CDC's focus on investing in new vehicles and technology to improve passenger comfort and safety.
"CDC was one of the early adopters of low-emission technology with the largest Hybrid fleet in the country. Now, with the spotlight on zero-emissions, it was a real privilege to partner with Volvo and deliver their first e-bus in Melbourne with another seven units to come.
ComfortDelGro Australia CEO, Nick Yap, said while CDC works with a number of suppliers to keep its 3000-plus vehicle fleet across Australia up to date, the relationship with Volgren has been forged over the years through cooperation on supplying replacement and expansion buses, including projects such as Stationlink, where CDC needed to deliver over 60 buses in just 140 days for the Sydney Metro upgrade rail replacement.
"We've worked together on some significant projects, including the assembly of the largest hybrid bus fleet in Australia, with a total of 50 vehicles," he said.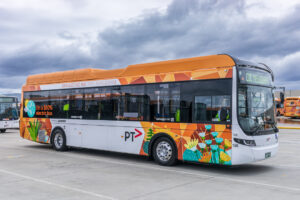 "Together, we recently launched our first zero-emission vehicle in Melbourne. This trial is helping CDC with its emissions reduction journey, which in turn will help the governments that CDC supports with their commitments towards their commitments towards zero net emissions.
"We share common corporate values with Volgren, such as sustainability."
Thiago Deiro said in such a competitive market in a range of products, Volgren's strategy is to offer the best available product to our customers and be the preferred body supplier to all OEM partners.
"That's why we've heavily invested in R&D, focusing on developing solutions to innovate and deliver a reliable and yet flexible product and multiplying our product range of ZEB vehicles to cover all different types of operational applications," said Thiago.