Thiago Deiro
CHIEF EXECUTIVE OFFICER
Thiago has been part of the Marcopolo Group since 2008 and was appointed CEO of Volgren in April 2019. Before joining Volgren, Thiago had worked as Finance & Investor Relations Manager for eight years and as Human Resources Officer for another two and a half years with Marcopolo. Thiago holds a degree in Economics, an MBA in Business Finance and he has also taken up various courses in Finance and Human Resources.
Since becoming CEO of Volgren, Thiago has led a company-wide transformation aimed at improving competitiveness, increasing capacity across all three manufacturing sites and delivering more value for customers. Thiago has carefully steered Volgren to become a leading force in designing and building zero-emission buses.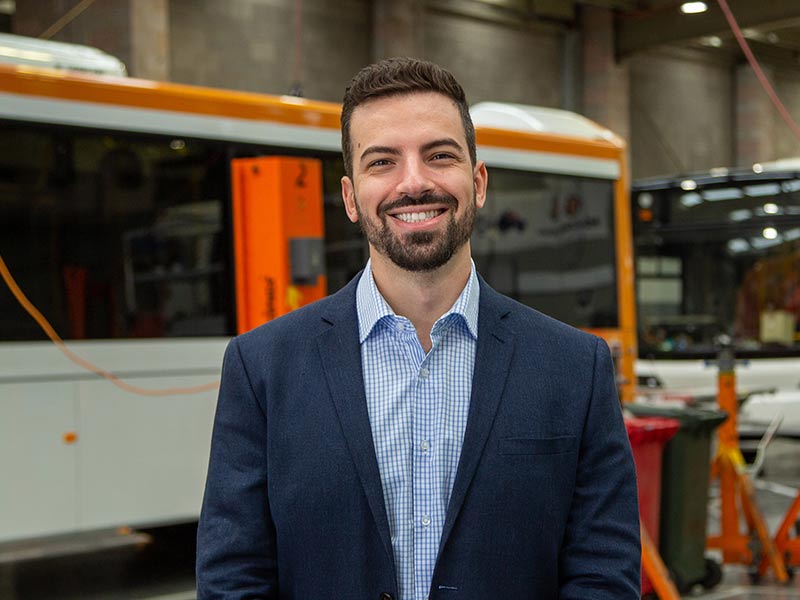 Yuri Tessari
CHIEF COMMERCIAL OFFICER
Yuri joined Volgren in 2020 as National Sales and Aftersales Manager before becoming Chief Commercial Officer, responsible for contract management, commercial partnerships, and customer success. Yuri has led a number of Volgren's recent zero-emission bus supply contracts including the Melbourne Bus Franchise, Zero-Emission trials in Victoria and a recent Hydrogen Fuel Cell Partnership with Wrightbus in the UK.
Yuri brings more than a decade of global experience having held senior sales roles at Marcopolo, Brazil and global sales for Scania based in Sweden. In early 2022, Yuri became a Council Member for the Bus Industry Confederation representing the Bus Body Manufacturers Group and is a Member of BIC's National Zero Emission Bus Committee.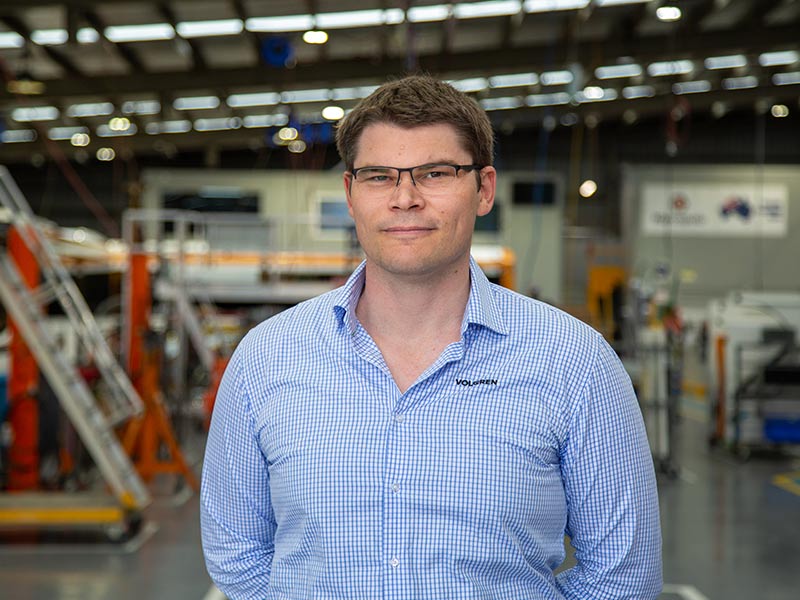 Brenton McCallum
ENGINEERING MANAGER
Brenton joined the product engineering design team in 2012, quickly distinguishing himself within the high volume/large contract space overseeing numerous multi-million dollar contract orders. Leveraging his strong communication & problem solving skills as well as his previous working experience in off-road camper trailers and capital project engineering he rose through the Volgren engineering leadership ranks to become the Engineering Manager in the 2020 overseeing both the product engineering and manufacturing engineering team.
The rapid transition to zero emission vehicles has seen a breadth of industry changes and Brenton has used his wealth of experience to guide and engage with the industry and government at all levels representing Volgren on various technical legislative feedback committee's and Policy advisories. He is passionate about sustainable practices and sees the transition to zero emission public transportation as a fundamental and critical step in the investment for the future of society.
Sneha Samant
NATIONAL HUMAN RESOURCES MANAGER
Sneha joined Volgren in 2021 as the National Human Resources Manager and brings over 15 years of experience across Human Resources Management in large multinational organisations. Her experience spans across an array of Human Resources' functions from Organisational Design, Talent Acquisition to Learning and Development, Organisational Culture and Employee Engagement.
Sneha is a qualified Engineer in Information Technology and has done her MBA in Global Human Resources Management.
Sneha is a firm believer of collaboration, communication and connection, passion, ethics and integrity in the work that she and her teams do together to build a robust and strategic HR framework for businesses to thrive.
Careers
Volgren employs around 350 people across a range of manufacturing and aftersales facilities in Sydney, Melbourne, Brisbane and Perth. We're committed to industry development and training and fostering a positive work atmosphere that's inclusive and respectful.
If you want to be part of an exciting Australian manufacturer, get in touch at info@volgren.com.au