The first of two Optimus-bodied, Volvo BZL vehicles built locally at Eagle Farm marks the bus body manufacturer's 50th Battery Electric Bus (BEB). The two vehicles delivered to Queensland's Translink, will be operated by Brisbane City Council on the Spring Hill Loop – a free service for commuters.
Thiago Deiro, CEO of Volgren said it was fitting that the milestone bus was built locally in Brisbane.
"Our Eagle Farm facility has emerged as a thriving center for battery electric bus manufacturing, acting as our primary hub for producing cutting-edge electric buses," Thiago said.
"From humble beginnings as a factory primarily focused on a single contract, Eagle Farm has rapidly evolved into a high-flexible and capable facility, accommodating over 15 different customers across three different states."
"This expansion highlights the trust and confidence that numerous customers have placed in Volgren's expertise and the quality of our electric buses."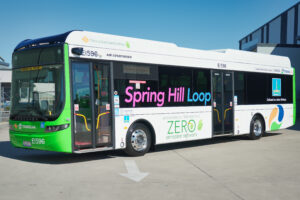 "Special thanks go to all our staff, operator partners who have put their faith in Volgren as they transition to zero-emissions, and our OEM partners and suppliers."
Yuri Tessari, Volgren's Chief Commercial Officer said Volgren's partnership with Translink and their operators has played a significant role in transitioning their Brisbane operation to building battery electric buses.
"The procurement of battery electric buses from Volgren demonstrates a commitment to sustainable transportation and a reduction in emissions in the public transportation sector," he said.
"It has also provided Volgren with a valuable opportunity to showcase our expertise in manufacturing BEBs and gain real-world experience in producing electric buses. This collaboration has allowed Volgren to adapt its Brisbane operation to incorporate the design, engineering, and manufacturing processes required for building BEBs."
Yuri said since the first locally built electric bus at Eagle Farm in 2022, the facility has delivered close to 40 BEBs, with a healthy pipeline of orders to come. To cope with the extra demand, Volgren Brisbane has doubled in size to 100 employees.
Volvo Bus Australia General Manager Mitch Peden said he was delighted to be working closely with our trusted business partners Volgren to deliver these Volvo BZL Electric buses, fitted with the Optimus body.
"These full low floor buses offer passengers great accessibility, and provide peace of mind for the operators, with the highest standard of safety systems of all battery electric buses in Australia.  The commonality of components across the Volvo diesel and electric range helps with serviceability and spare parts availability and, in turn, ensures maximum uptime," he said.
In line with our core value of safety, Volvo are also leading the way in terms of Competency Training to ensure all of Volvo's operator partners and their maintenance teams have a good understanding of high voltage safety and are familiar with the product – again, showing our customers, including Translink, that we're strong business partners focused on quality and safety, in it for the long run.
Thiago concluded by saying Volgren's journey at Eagle Farm represents a significant milestone in the company's national manufacturing footprint.
"We are proud to be at the forefront of the zero-emission bus revolution, playing a pivotal role in driving sustainable transportation across Australia," he said.
"Our thriving Eagle Farm facility symbolises our dedication to innovation, quality, and meeting the diverse needs of our customers."